Wyvern is a British company with a proud history of pioneering design and innovation that started in the early 1950's.
Wyvern is a British company with a proud history of pioneering design and innovation that started in the early 1950's, when our founder Kenneth Burge, a brilliant young electronics engineer began developing designs for early electronic organs and opened his first organ building factory in 1959.
At this time, Arthur Lord, former theatre organist and broadcaster for the BBC, was researching tone generation with his friend Leslie Bourn – then Technical Director of John Compton Organ Company and inventor of electro-magnetic and electrostatic methods of tone production. Arthur Lord joined this famous pipe and electronic organ company as General Manager.
In 1966 – Kenneth Burge founded Wyvern Organs and two years later he invited his old friend Arthur Lord to join him. The company invented many new systems including: "diode-keying" – eliminating "key-click" and Graduated Frequency Attack – a means of varying attack rates for notes of different pitch. These were major advances in early analogue instruments and were copied by other manufacturers throughout the World. In 1982 the Company developed the Worlds first "dual specification" organ, the Wyvern ST60.
Since then, Wyvern invested in the Bradford System and then the WpX voicing software.
Wyvern Organs still provides quality instruments for many different locations. Using tried and tested technology, the Wyvern voicing system produces a very realistic alternative to the pipe organ sound.
With comprehensive voicing and regulation software, we can produce quality results and bespoke systems for our customers.
Custom Build Organs
The custom Wyvern concept is to build high quality bespoke organ from a range of suggested specifications that can then be altered to suit individual needs. Stop lists, data and voicing can be rewritten at any time, allowing the organ to benefit from software updates, or altered in the future to reflect changing tastes and needs. The specifications shown here are therefore suggested frameworks that we tailor to your requirements, and you can choose from a wide range of options such as piston layouts, keyboards and stop control.
Detailed analyses of pipe ranks from some of Britain's finest organs provide the basis for our voicing. Every rank of each stop is a separate entity, without borrowing or extension and being independently generated, the individual voices are full of character and remarkably realistic. But it is in the chorus build-up where the Wyvern is so notable, with the richness and grandeur of ensembles characteristic of a fine pipe organ.
Great care is taken to produce elegant and attractive consoles that still retain a traditional appearance. Particular attention has been paid to the detail with a greater emphasis on solid wood capping around areas of potential wear. There is a hinged music desk that is lower and further forward for ease of use and fitted with solid brass music hooks. The roll-top fall is of interlocking slats of solid wood, spindle moulded and fastened with braided steel wire for maximum life. There is a substantial full-length bench with a music compartment beneath and pedalboards are of a heavy-duty construction, with beech pedals to give many years of hard wear.
The high-quality keyboards have a crisp top-resistance providing a positive touch for the organist. Heavy-duty key contacts are used to give durable, maintenance free life. Consoles are finished by hand to ensure that these classic instruments look as good as they sound. Everything about a Wyvern is built to last.
Audio
Wyvern organs incorporate a substantial and flexible audio system. The ability to move sound around like a pipe organ, and with true bass systems, we can make the air move. Split semitone systems are a popular feature, where C and C# notes speak from alternate speakers recreating movement of sound. Note attack, delay and release are also controllable. All our organs are fitted with a good number of audio channels and speakers. Custom build organs have a blank canvass so the audio can be designed to the customers specific requirements and be matched to the décor.
Speaker enclosures are designed to fit in with the natural surroundings where they are placed, with both real pipes and crafted wooden fronts being used.
With a new design of speaker being tested, Wyvern is still very much in the digital organ market and continues to appeal to our customers.
Gallery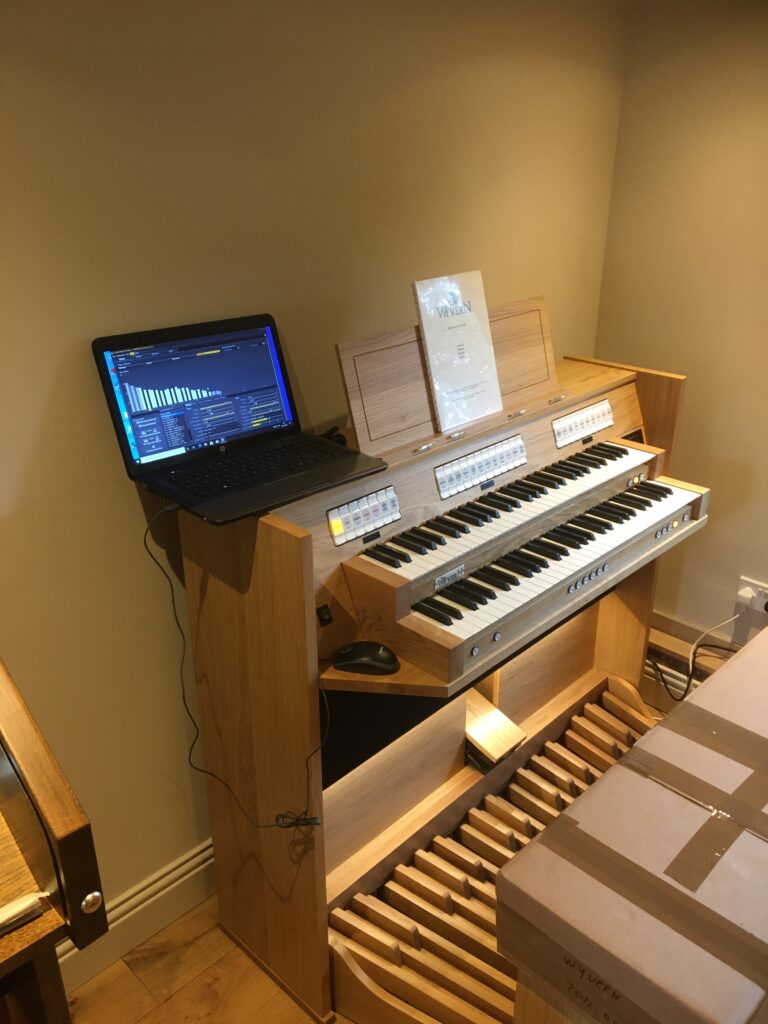 Contact