NIIOC has changed the organ landscape locally and internationally.
Celebrating 10 Special Years
Join NIIOC's 10 starry winners for Gala Recitals this spring
Southwark Cathedral, London SE1 9DA – Monday 28 March 2022, 7.30pm
Belfast Cathedral, BT1 2HB – Wednesday 6 April 2022, 7.30pm
It set out to offer organists something unique – and few could have expected it to deliver such results. The Northern Ireland International Organ Competition (NIIOC) burst on to the scene in 2011, aiming to provide organists aged 21 and under with a supportive platform on which they could shine. It also offered shortlisted competitors professional recordings for sharing on digital outlets, as well as substantial monetary awards and international recital opportunities.
As a proper trailblazer, NIIOC has changed the organ landscape locally and internationally. It also led the way for organ competitions during the pandemic, offering a virtual model.
Competitors from Australia, the US, China and all across Europe have climbed the cobbled streets of the beautiful cathedral city of Armagh each August to perform in St. Patrick's Church of Ireland Cathedral. If you ask any of them, they'll describe the experience as friendly, warm and transformative, and for many NIIOC has provided a network of colleagues for life. Figures like Thomas Trotter, Thierry Mechler, Kimberley Marshall and Martin Jean have taken positions on the jury – and all are now champions for the competition.
Organisers have also worked tirelessly with its illustrious patrons to open doors for NIIOC's many participants. The Dame Gillian Weir Medal, for an outstanding performance of one particular piece, has been presented for the last four years. NIIOC has been the official partner of the St. Albans International Organ Festival since 2017. It has also partnered with the Royal College of Organists on a number of events.
Following prize performances in the likes of Westminster Abbey, St. Thomas Fifth Avenue (New York) and Stockholm Cathedral, NIIOC's first 10 senior winners will unite in this anniversary year to perform Gala Recitals in Southwark and Belfast Cathedrals. With many of them now international recitalists and cathedral organists, these events will be well worth hearing.
Richard Yarr, NIIOC Chair and Founder, says 'We're thrilled to be celebrating our first 10 years with such great ambassadors. NIIOC takes pride of place on their CVs and I know these events will offer something for everyone. They will also provide great opportunities to thank those who have supported us on this exciting journey.'
Tickets for both events, priced at £10 (£5 concessions), can be obtained directly via the NIIOC website – www.niioc.com
Lunchtime Recital by Richard Gowers
Southwark Cathedral, London
Monday 28 March 2022 at 1.15pm
This free event, lasting 30 minutes, will feature the world premiere of a new commission by the leading British composer Grace-Evangeline Mason marking NIIOC's 10th anniversary. It has been co-commissioned with the Commission for Victims and Survivors for Northern Ireland.
Grace-Evangeline Mason is a leading talent among young British composers. She was
winner of the BBC Young Composer of the Year 2013 and the Royal Philharmonic Society Composition Prize 2018. She made her BBC Proms debut as a composer in 2017, aged 22. Her works have been performed by ensembles including the BBC Symphony Orchestra, BBC Philharmonic, City of Birmingham Symphony Orchestra, Aurora Orchestra and the Royal Liverpool Philharmonic Orchestra.
NIIOC 2023
The Northern Ireland International Organ Competition will return in 2023, running Monday 21 to Wednesday 23 August. It will take place in St. Patrick's Church of Ireland Cathedral, Armagh, with major recital opportunities, masterclasses, monetary awards and the Dame Gillian Weir Medal. Senior, Intermediate and Junior categories will all feature.
Senior winners:
2011: Ben Comeau – UK
2012: Ben Bloor – UK
2013: Richard Gowers – UK
2014: Andrew Forbes -UK
2105: Alexander Hamilton – UK
2016: Mona Rozdestvenskyte – Russia
2017: Sebastian Heindl – Germany
2018: Johannes Krahl – Germany
2019: Ivan-Bogdan Reincke – Hungary
2020: Laura Schlappa – Germany
Keep in touch with us on Facebook and Twitter @NIIOC1
Gallery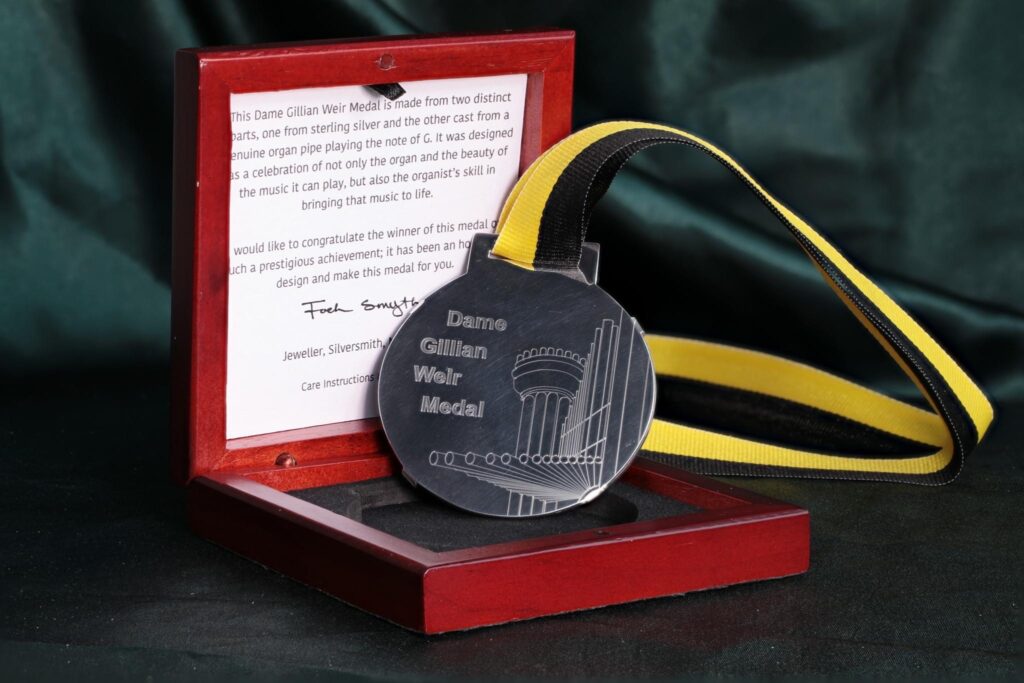 Contact